Inspired by conversations and encounters during and since the IMER 25th Anniversary Party in November, IMER Jr Coordinators decided to go on the lottery for a writing retreat at Ottesheimen, in Ustaoset. We were lucky to get a mini week Sunday to Thursday for the 22nd to 26th of January. A small group of us managed to go and make the most of the opportunity to enjoy the hytteliv, focus on writing, and enjoy each other's company.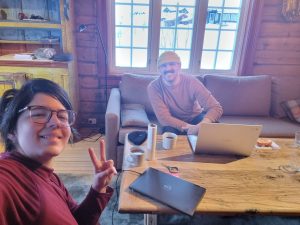 Some highlights of the trip include Kari's hidden call as a ski instructor for Gabriela and Kahlil (very much at beginners falling-down-learn-to-get-up level), and Khalil's cooking skills with delicious food.
Thank you for making this a memorable IMER Jr retreat, and may it continue!