On Friday 6th of December 2019, the first one-day conference for junior scholars working with topics of migration and ethnic relations in Norway was held in Bergen, organized by the local IMER junior scholar network. Thirty-three participants affiliated to eight different universities in Norway (and one from Valencia) travelled from Tromsø, Bodø, Trondheim, Stavanger, Agder, Oslo and Eastern Norway to connect with other junior scholars, to share from their knowledge and experience, and to learn from each other. It was a very interdisciplinary group, and though the social sciences were overrepresented, there were participants from law, medicine, education, history, musicology, foreign languages, media and communication, social work and social policy, as well as from the field of diaconian values and professional practice. Such interdisciplinarity is quite unique, but also extremely important. The topics that we are working with encompass so many different aspects of human life and society, and hence, they require interdisciplinary approaches.
The program of the conference was developed with this in mind, and the participants were able to learn about and discuss the benefits and challenges of working in such an interdisciplinary, but also politicized field. The morning started with an informal mingling-session organized in speed-date format through which we got to introduce ourselves and present our projects. We were given two minutes each, which was challenging. But people's ' ' 'elevator pitches' increasingly improved over the course of the activity.
We were very happy to have Professor Mette Andersson from the University of Oslo as keynote speaker, who shared from her extensive knowledge and experience in the field. The title of the keynote was "What happens when migration research meets inequality research?". She guided us through the development of research on immigration and ethnic relations in Norway, and introduced us to a variety of debates and disciplinary disagreements. She also developed a critical discussion around important concepts such as integration, class, ethnicity and race. After the keynote we enjoyed a refreshing lunch with a beautiful musical performance by Kari Anne Klovholt Drangsland and Helene Nilsen whose cover songs touched upon relevant topics like temporalities and relations across borders. After lunch, Associate Professor Laura Saetveit Miles from the Department of Foreign languages, UiB, gave us a really inspiring professional development talk about networking. She provided a lot of practical and specific advice on how to navigate academia as a junior scholar, and how to think about networking, which sometimes can be really hard and challenging, but also a very rewarding part of being a researcher!
We were then divided into groups according to similar projects/topics of interest for a workshop organized in order to see what we have in common and how we can cooperate and mutually benefit from each other. The task was to make an outline for a co-written text using Lego blocks (we could choose between an academic article, an op-ed article or a blog post). We hope that this was the start of future collaboration and that some of the participants were inspired to write and publish together (and maybe we will be able to read some of the blog posts here in the near future…). The day ended with a panel debate between Professor Mette Andersson, Professor Kariane Gärtner Westrheim and postdoctoral fellow and leader of IMER, Marry-Anne Karlsen. The topic was "Challenges in a Multidisciplinary and Politicized Field" and the panelists shared their opinions about methodological challenges as well as on dilemmas linked to the relationship between activism and research.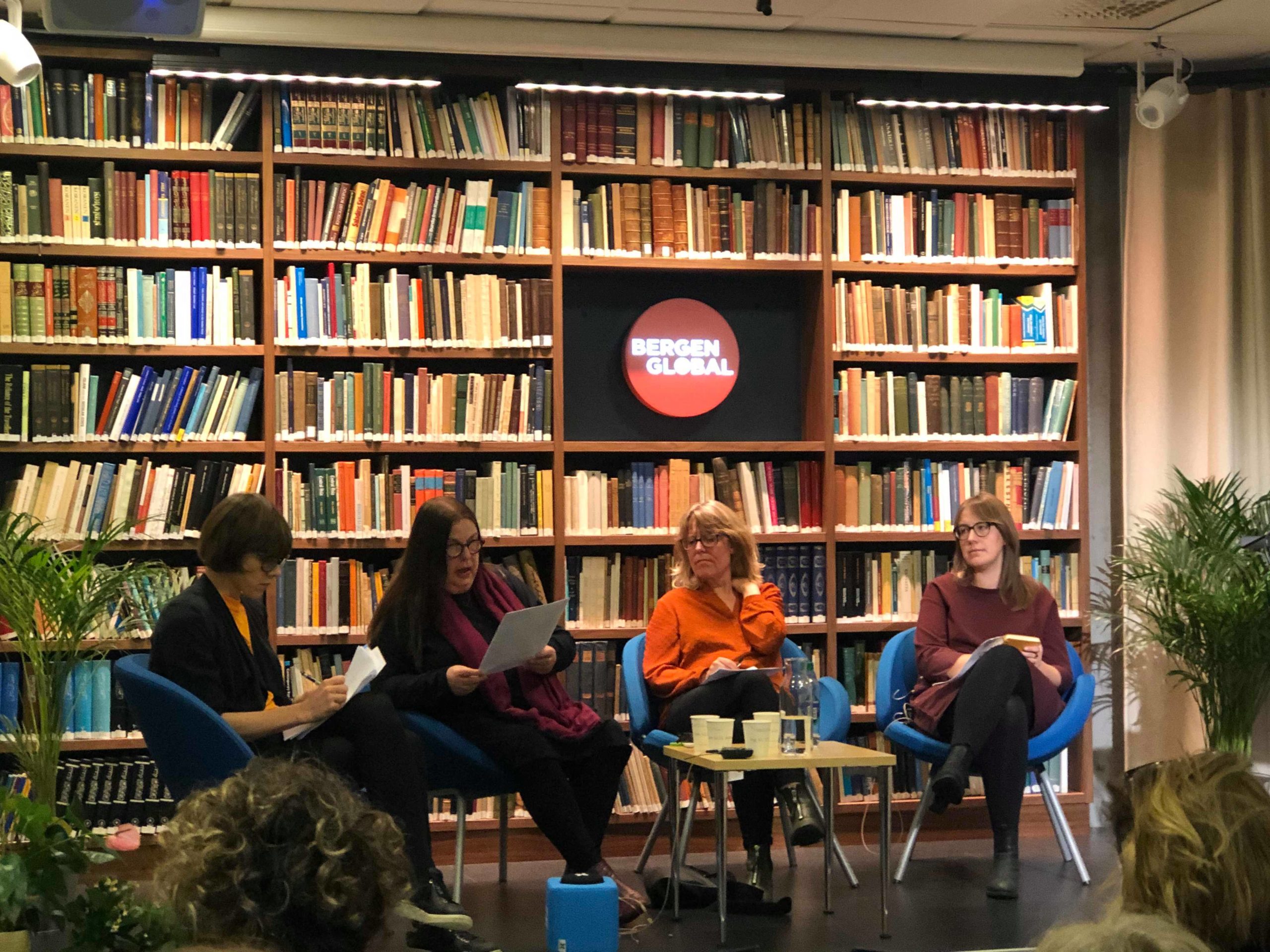 In the closing session, participants were asked about "the way ahead" for the network. The overall impression was that people were very satisfied with the conference. Many expressed that they wished this could become an annual event, and that we should extend the conference to at least two days. The organizing committee was very happy to receive such positive feedback, and we are already looking forward to start planning next year's event. In the mean time we will keep contact through our blog (it is now possible to subscribe to our blog) and through our Facebook page. The evening ended with a conference dinner at a local Ethiopian restaurant, and the conversations continued into the late hours.
Thank you to the organizing committee who did a great job: Irina Tiurikova, Kari Hagatun, Amany Selim, Joanna Spyra and Ann Cathrin Corrales-Øverlid. Without their hard work and creative ideas, this conference would never have happened! Also, a big thank you to UiB Global Challenges that funded the conference and contributed with administrative assistance. Thank  you to speakers and panelists, and thank you to everyone who contributed to making this day such an amazing experience!
Blog post written by Ann Cathrin Corrales-Øverlid